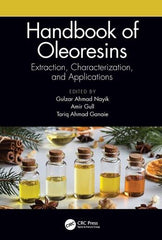 Handbook of Oleoresins Extraction, Characterization, and Applications
Edited By Gulzar Ahmad Nayik, Amir Gull, Tariq Ahmad Ganaie
Copyright 2023
454 Pages 54 B/W Illustrations
An Oleoresin represents the true essence of spices enriched with volatile and non-volatile essential oil and resinous fractions. The oleoresin represents the wholesome flavor of the spice, a cumulative effect of the sensation of smell and taste. Therefore, it is designated as "true essence" of the spice and can replace spice powders in food products without altering the flavor profile. Our earth comprises a plethora of spices that have carved a niche in the global market in medicinal and health-related food products. These spices play a dual role as a food ingredient and a therapeutic agent preventing various diseases. This industry has acquired tremendous attention not only from consumers but also from scientific communities, and various food manufacturing organizations.
Handbook of Oleoresins: Extraction, Characterization, and Applications is a snapshot of information on oleoresins—production, composition, properties, applications (medicinal & health properties), and more. It is designed to be a practical tool for the various professionals who develop and market spices and oleoresins
Key Features:
Contains comprehensive information on the major oleoresins of the world
Dicusses the extraction and characterization of major spice oleoresins
Covers the safety and toxicity of oleoresins
Sheds light on relationship between oleoresins and health benefits
The world is moving towards natural products. Spices lend color, taste, and flavor, and oleoresins are good source of antioxidants and have preservative as well as therapeutic power. Therefore it is important to understand and document the chemistry, characterization, properties and applications of oleoresins, as found in this handbook.
Table of Contents
Preface, xi
Editors, xiii
Contributors, xv
Chapter 1 ◾ Pepper Oleoresin: Properties and Economic Importance 1
Zakiya Usmani, Aamir Hussain Dar, Aayeena Altaf, and Yash D. Jagdale
Chapter 2◾ Chemistry and Properties of Coriander Oleoresin 11
Hanuman Bobade, Arashdeep Singh, and Baljit Singh
Chapter 3 ◾ Characterization of Capsicum Oleoresin 31
Asif Ahmad and Muhammad Suhail Ibrahim
Chapter 4 ◾ Health and Medicinal Properties of Saffron 63
Sabeera Muzzaffar and Iqra Azam
Chapter 5 ◾ Ajwain Oleoresin: Characterization and Properties 95
Lubna Masoodi, Tahmeena Ahad, Jassia Nisar, and Shaheen Khurshid
Chapter 6 ◾ Extraction Techniques, Production and Economic
Importance of Asafoetida Oleoresin 101
Garima Bhardwaj, Ajay Sharma, Apurba Gohain, Harvinder Singh Sohal,
Tejasvi Bhatia, and Vishal Mutreja
Chapter 7 ◾ Black Cumin Oleoresin: Characterization, Properties and Economic Importance 129
Sumera Mehfooz, Ghulamud in Sofi, Najeeb Jahan, and Imtiyaz Ahmad Mir
Chapter 8 ◾ Safety, Toxicity and Properties of Fennel Oleoresin 141
Vishakha Singh and Shweta Joshi
Chapter 9 ◾ Distribution, Production and Health Benefits of Ginger Oleoresin 153
Lisa F. M. Lee Nen That and Jessica Pandohee
Chapter 10 ◾ Applications of Garlic Oleoresin 173
Gargee Dey and Tridip Boruah
Chapter 11 ◾ Characterization and Extraction Techniques of Nutmeg Oleoresin 187
Tahira Mohsin Ali, Natasha Abb as Butt, and Marium Shaikh
Chapter 12 ◾ Health and Medicinal Properties of Rosemary Oleoresin 235
Laura Natali, Afanador-Barajas, Adriana Patricia Diaz-Morales, Edgar Vázquez-Núñez, Sergio Rubén Peréz-Ríos, Marycarmen Cortés-Hernández, Gabriela Medina-Peréz, and Cecilia Bañuelos
Chapter 13 ◾ Characterization of Lemongrass Oleoresins 261
Shafeeqa Irfan, Syeda Mahvish Zahra, Mian Anju m Murtaza, Saadia Zainab,
Bakhtawar Shafique, Rabia Kanwal, Ume Roobab, and Muhammad Modassar Ali Nawaz Ranjha
Chapter 14 ◾ Health and Medicinal Properties of Turmeric Oleoresin 285
Muhammad Rizwan Tariq, Shinawar Waseem Ali, Sajid Ali, and Muhamad Shafiq
Chapter 15◾ Onion Oleoresin: Extraction, Characterization, and Application 301
Shafiya Rafiq, Bababode Adesegun Kehinde, Priyanka Suthar, Suheela Bhat,
Gulzar Ahmad Nayik, and Yash D. Jagdale
Chapter 16◾ Production, Characterization, and Health Benefits of Cardamom Oleoresins 313
Jasmeet Kour, Renu Sharma, Sangeeta, Vikas Bansal, Monika Hans, and Ashwani Kumar Khajuria
Chapter 17 ◾ Chemistry and Characterization of Clove Oleoresin 329
Gurpreet Kaur, Kamalpreet Kaur, Preeti Kukkar, Navneet Kaur Panag, and Jashanpreet Kaur
Chapter 18 ◾ Fenugreek Oleoresins: Chemistry and Properties 369
Nighat Raza, Muhammad Shahbaz, Mujahid Farid, and Adeel Hakim
Chapter 19 ◾ Characterisation and Pharmacological Properties of Celery Oleoresin 389
Ruchi Sharma, Tanu Malik, Shailja Kumari, and Somesh Sharma
Chapter 20 ◾ Paprika Oleoresins: Chemistry and Properties 399
Tejasvi Bhatia, Barkha, Garima Bhardwaj, Ajay Sharma, and Vivek Pandey
INDEX 423