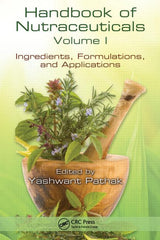 Handbook of Nutraceuticals Volume I: Ingredients, Formulations, and Applications By Yashwant Vishnupant Pathak
Special Indian Reprint !
Indian Reprinted Ed 2016,  November 24, 2009 by CRC Press
Reference - 400 Pages - 32 B/W Illustrations
Features
Provides information on regulatory aspects and current Good Manufacturing Practices (cGMPs)
Discusses the formulation aspects of nutraceuticals to aid in product development
Covers analytical methods for developing robust reproducible products
Presents monographs on each nutraceutical that follow a unified format
Includes coverage of safety, toxicity and the future of nutraceuticals
Focuses on nutraceutical formulations aimed at specific diseases or disorders
Summary
As soon as Dr. Stephen DeFelice coined the phrase nutraceutical, product and supplement developers swung into action. Yet among the numerous books available on nutraceuticals, there is none that systematically lists, categorizes, and analyzes nutraceutical extracts and formulations in a pharmacopoeia-like manner. Handbook of Nutraceuticals, Volume 1: Ingredients, Formulations, and Applications lists information on many ingredients used in nutraceuticals, developing their formulations and applications. The book includes contributions from experts with pharmaceutical backgrounds, providing an examination of nutraceuticals from a pharmaceutical perspective.
Building a foundation with coverage of historical background, definitions, and challenges, the book offers insight into nutraceutical ingredients from plant, animal, and mineral origin. It then covers the characterization of nutraceuticals' physicochemical, analytical, pharmacological, and pharmacokinetic classification, followed by information on regulatory requirements. The book highlights applications in cardiovascular disease, bone and joint treatments, diabetes management, weight management, skin health, probiotics and prebiotics, tranquilizing medicinal plants, dietary foods, and more.
Interest in new diet regimens and new products for increased health and longevity will continue to grow, giving dietary supplements an increasing amount of cupboard space in most households. With quality of content unsurpassed by many resources, the book discusses the characterization processes for nutraceuticals based on the contributors' experience in pharmaceuticals. It then explores how those proven techniques may be applied to the development and manufacture of nutraceutical products.
Table of Contents
1. Nutraceuticals of Antiquity, V. Patel, P. Wilson, and R.H. Singh

2. Nutraceuticals: Definitions, Formulations, and Challenges, Y. Pathak

3.Potential Nutraceutical Ingredients from Plant Origin, S. Agrawal and A. Chakrabarti

4. Nutraceuticals with Animal Origin, R. Yendapally

5. Nutraceuticals with Mineral Origin, M.A. Ansong and S.Y. Pathak

6. Physiochemical Characterization of Nutraceuticals, A. Koomer

7. Development of Techniques for Analysis of Nutraceuticals with Specific Reference to Glucosamine and Coenzyme Q10, J. Adams and B. Lockwood

8. Pharmacological Characterization of Nutraceuticals, C. Preuss

9. Biopharmaceutical and Pharmacokinetic Characterization of Nutraceuticals, C. Preuss

10. Regulatory Considerations for Dietary Supplements and Functional cGMPs, M. Witt and Y. Pathak

11. Nutraceuticals for the Cardiovascular System, H. Tran and K.K. Daugherty

12. Nutraceuticals in Diabetes Management, M.L. Ceballos-Coronel

13. Curcumin: A Versatile Nutraceutical and an Inhibitor of Complement, G.J. Kotwal

14.Probiotics and Prebiotics as Nutraceuticals, S.Y. Pathak, C. Leet, A. Simon, and Y. Pathak

15. Nutraceuticals and Weight Management, G.W. Pla

16. Nutraceuticals for Bone and Joint Diseases, M. Bodenberg and H. Byrnes

17. Nutraceuticals for Skin Health, R. Yendapally

18. Tranquilizing Medicinal Plants: Their CNS Effects and Active Constituents—Our Experience, M. Marder and C. Wasowski

19. Dietary Foods, P. Mason

20. Antiviral Nutraceuticals from Pomegranate (Punica granatum) Juice, G.J. Kotwal

21. Herbal Remedy: Safe or Not Safe? How to Use Them? H.T. Tran

22. Nutraceuticals: Reflections, S.L. DeFelice
Index