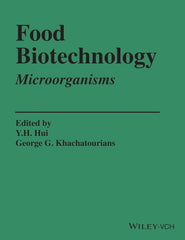 Food Biotechnology: Microorganisms By Y. H. Hui (Editor), George G. Khachatourians (Editor)
SPECIAL INDIAN REPRINT !
Food Biotechnology: Microorganisms
952 pages
November 1994, Reprinted in India  2014.
This handbook discusses how microorganisms (bacteria, fungi, yeasts) can be modified to various extents by means of molecular genetics or genetic engineering. Compiled and written by the world's leading experts and practioners in food science and food technology, it presents the latest research and development in the discipline. It is easy-to-understand and can be used directly by readers interested in practical and commercial applications. So this book is important for researchers as a reference guide, and it can be used in various disciplines as microbiology, chemistry, biochemistry and engineering. 'Food Biotechnology' also is interesting for the industries, in addition to food processing, because commercial products and services affected include fine chemicals, enzymes, cultures, equipment and supplies.