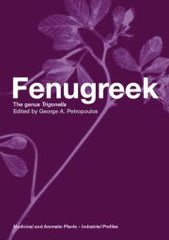 Fenugreek: The Genus Trigonella by Georgios A Petropoulos
SPECIAL INDIAN REPRINT !
Fenugreek: The Genus Trigonella
Summary
Fenugreek presents an in-depth review on the Genus Trigonella and particularly the species T. foenum-graecum L. (fenugreek). It is written by experts and includes chapters describing the genus' botany, physiology, cultivation, breeding, nutrition, pest-disease and weed control. The chemical constituents of the species of Trigonella, their pharmacological properties and the marketing of fenugreek seed are also discussed as are its medicinal applications. A detailed presentation of the usefulness of fenugreek seed as food (whole, flour, roasted), spice (in curry powder), perfume, dye and source of galactomannan and steroidal diosgenin, widely used in industry, is also included. The book will be of interest to all those concerned with the study, cultivation and use of medicinal and aromatic plants and particularly of fenugreek.
Table of Contents :
Introduction.
Botany.
Physiology.
Cultivation.
Breeding.
Nutrition.
Pest and Diseases.
Weeds.
Chemical Constituents.
Pharmacologic Effects.
Marketing.