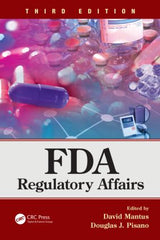 FDA Regulatory Affairs Third Edition, 3rd Edition
FDA Regulatory Affairs
Third Edition, 3rd Edition
Edited by
 

David Mantus,

 

Douglas J. Pisano

CRC Press

400 pages

 

Description
FDA Regulatory Affairs is a roadmap to prescription drug, biologics, and medical device development in the United States. Written in plain English, the concise and jargon-free text demystifies the inner workings of the US Food and Drug Administration (FDA) and facilitates an understanding of how the agency operates with respect to compliance and product approval, including clinical trial exemptions, fast track status, advisory committee procedures, and more.
The Third Edition of this highly successful publication:
Examines the harmonization of the US Federal Food, Drug, and Cosmetic Act with international regulations on human drug, biologics and device development, research, manufacturing, and marketing
Includes contributions from experts at organizations such as the FDA, National Institutes of Health (NIH), and PAREXEL
Focuses on the new drug application (NDA) process, cGMPs, GCPs, quality system compliance, and corresponding documentation requirements
Provides updates to the FDA Safety and Innovation Act (FDASIA), incorporating pediatric guidelines and follow-on biologics regulations from the 2012 Prescription Drug User Fee Act (PDUFA) V
Explains current FDA inspection processes, enforcement options, and how to handle FDA meetings and required submissions
Co-edited by an industry leader (Mantus) and a respected academic (Pisano), FDA Regulatory Affairs, Third Edition delivers a compilation of the selected US laws and regulations as well as a straightforward commentary on the FDA product approval process that's broadly useful to both business and academia.
Table of Contents
Preface
Editors
Contributors
Overview of FDA and Drug Development
Josephine C. Babiarz and Douglas Pisano
What Is an IND?
Michael R. Hamrell
The New Drug Application
Charles Monahan and Josephine C. Babiarz
Meetings with the FDA
Alberto Grignolo and Sally Choe
FDA Medical Device Regulation
Barry Sall
A Primer of Drug/Device Law: What Is the Law and How Do I Find It?
Josephine C. Babiarz
The Development of Orphan Drugs
Scott N. Freeman
CMC Sections of Regulatory Filings and CMC Regulatory Compliance during Investigational and Postapproval Stages
Prabu Nambiar, Steven R. Koepke, and Kevin Swiss
Overview of the GxPs for the Regulatory Professional
Bob Buckley, Robert Blanks, Kimberly J. White, and Tonya White-Salters
FDA Regulation of the Advertising and Promotion of Prescription Drugs, Biologics, and Medical Devices
Karen L. Drake, Esq.
The Practice of Regulatory Affairs
David S. Mantus
FDA Advisory Committees
Christina A. McCarthy and David S. Mantus
Biologics
Florence Kaltovich
Regulation of Combination Products in the United States
John Barlow Weiner, Esq.
Index
About the Editors
David Mantus worked in the biotechnology and pharmaceutical industry for more than 20 years. He not only served as vice president of regulatory affairs at Cubist Pharmaceuticals but also held various regulatory roles at Sention Inc., Shire Biologics, PAREXEL, the Massachusetts Public Health Laboratory, the Massachusetts College of Pharmacy and Health Sciences, and Procter and Gamble Pharmaceuticals. He received his BS in chemistry from the College of William and Mary, his MS and Ph.D in chemistry from Cornell University, and was a post-doctoral research fellow in biomedical engineering at the University of Washington. He is currently associate professor of pharmaceutical sciences and director, regulatory affairs at MCPHS University in Boston.
Douglas J. Pisano received his Ph.D in law, policy, and society from Northeastern University. He has participated on the editorial advisory boards of multiple journals and received the Special Service Award for the Enhancement of Regulatory Education from the Regulatory Affairs Professionals Society. A registered pharmacist and active member of several professional organizations, including the American Association of Colleges of Pharmacy and the Regulatory Affairs Professionals Society, he formerly served as dean of the School of Pharmacy–Boston and is currently professor of pharmacy administration, vice-president of academic affairs, and provost at MCPHS University in Boston.
Reviews
"This book covers the myriad of topics related to the development and marketing of all types of drugs and devices regulated by the U.S. Food and Drug Administration. The book discusses not only the relevant regulations, but also the administrative processes that sponsors must deal with in getting their products approved for marketing. … This book covers many of the important issues in enough depth to answer basic questions related to the components of an IND (investigational new drug) and an NDA (new drug application), as well as IDE (investigational device exemption) and 510k applications. … This book fulfills a unique need for those seeking a book for a course in drug and device development or for those in the industry who seek information outside of their area of expertise."
—Michael R. Jacobs, BS, PharmD, Temple University School of Pharmacy, in Doody's Book Reviews