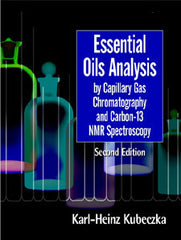 Essential Oils Analysis by Capillary Gas Chromatography and Carbon 13 NMR Spectroscopy Second Edition
Essential
Oils Analysis
by Capillary Gas Chromatography and Carbon 13 NMR Spectroscopy
Second Edition
by Karl-Heinz Kubeczka
This reference book clearly demonstrates the power of the technique in the characterization of essential oils, based on 60 sample oils chosen for their industrial importance together with the 188 carbon-13 NMR spectra of significant components. Supporting data are presented using capillary gas chromatography.
Features:
18 new essential oils are included, five oils are replaced and five oils with less or little importance are deleted

Revision of numerous analyses taken over from the 1st edition

Capillary gas chromatograms of 60 commercially important essential oils

Qualitative and quantitative analytical results of those essential oils

Carbon-13 NMR analyses of those essential oils without separation of their components

Carbon-13 NMR spectra of 188 most important oil constituents are given (67 are new in the 2nd edition)
This collection of 13C NMR and GC data is aimed at essential oils and natural products chemists, NMR research groups, university departments of chemistry, pharmacy, botany, and food science, as well as those working in the essential oils, perfumes, flavours and food technology industries.
Contents
Part I: Essential Oils
Angelica seed oil.
Anise seed oil.
Bergamot oil.
Cananga oil.
Caraway oil.
Celery seed oil.
Chamomile oil.
Cinnamon oil.
Citronella oil.
Clove oil.
Coriander oil.
Dill seed oil.
Dwarf-pine oil.
Eucalyptus oil.
Fennel oil.
Geranium oil.
Juniper berry oil.
Lavandin oil.
Lavender oil.
Lemon oil.
Lemongrass oil.
Lime oil.
Litsea cubea oil.
Mandarin oil.
Mint oil.
Orange oil,
sweet. Parsley seed oil.
Patchouli oil.
Peppermint oil.
Petitgrain oil.
Pine needle oil.
Rose oil.
Rosemary oil.
Sage oil.
Sage clary oil.
Spearmint oil.
Spike lavender oil.
Star anise oil.
Tea-tree oil.
Thyme oil.
Ylang-ylang oil.
Part II: Reference Compounds
Appendices