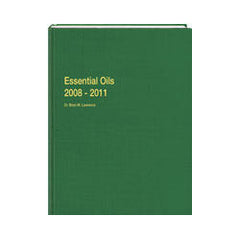 Essential Oils : 2008-2011, Volume 9 By Dr. Brian Lawrence
ESSENTIAL OILS   Vol 9,   2008-2011
By Dr. Brian M. Lawrence, PhDHardcover284 PagesPublished 2012
Essential Oils, Volume 9: 2008-2011 collects four years of research by noted international expert Brian M. Lawrence in the field of essential oil research.
The final volume of a series begun in 1976
, this edition features, in addition to the plethora of papers crafted for Perfumer & Flavorist magazine since 2008, several pages of entirely new, never before published research on topics including Davana oil, Rose oil, chasteberry, citral-rich Cymopogon species, and more.
A fitting conclusion to this monumental series, Essential Oils, Volume 9 is a wonderful companion both to the overall series itself and also, more importantly, to any perfumer or fragrance enthusiast with an interest or passion for scent. In short it is essential!
Several never before published research papers
Each and every paper published in Perfumer & Flavorist magazine's Progress in Essential Oils column since 2008
The final volume of an exclusive series dating back to 1976
Table of Contents:Introduction:The following oils are covered in this edition:
Alaska Yellow Cedar Leaf Oil
Ammi Visnaga Oil
Amyris Oil
Anise Oil
Annual Wormwood Oil
Armoise Oil
Artemisia ludoviciana Oil
Atlas Cedarwood Oil
Australian Sandlewood Oil
Balsamite (Costmary) Oil
Black and White Pepper Oil
Brazilian Pepper Leaf Oil
Calamus Oil
Canadian Hemlock Oil
Cardamom Oil
Carnation Volatiles
Ceylon Citronella Oil
Chamomile Oil
Chasteberry (Vitex agnud-castatus) Oil
Cilantro Oil
Cinnamon Bark Oil
Cinnamon Leaf Oil
Clary Sage Oil
Coriander Seed Oil
Cubeb Oil
Culantro Oil
Cumin Oil
Cyperus articulatus Oil
Cyperus rotundus Oil
Cypress Oil
Davana Oil
Douglas Fir Needle Oil
Dwarf Pine Oil
Erigeron (Fleabane) Oil
Eucalyptus citriodora Oil
Ginger Oil
Hyssop Oil
Jasmin Absolute
Java Citronella Oil
Juniper Berry Oil
Laurel Leaf Oil
Lavandin Oil
Lavender Oil
Lebanon Cedar Needle Oil
Lebanon Cedarwood Oil
Lemon Thyme Oil
Lemon Verbena Oil
Lemongrass Oil
Lemon-scented Tea Tree Oil
Lovage Leaf Oil
Lovage Root Oil
Melissa or Lemon Balm Oil
Mentha spicata Oil
Mexican Oregano Oil
Mountain Pine Oil
Nagarmotha Oil
Native Spearmint Oil
New Caledonium Sandlewood Oil
Nigella sativa Oil
Orange Oil
Parsley Seed Oil
Pennyroyal Oil
Rose Oil
Sandlewood Oil
Siberian Fir Needle Oil
Spanish Oregano Oil
Spanish Thyme Oil
Spikenard Oil
Star Anise Oil
Tagates Oil
Tarragon Oil
Thyme Oil
Valerian Root Oil
Vetiver Oil
Vietnamese Coriander Leaf Oil
Wild Thyme Oil
Yarrow Oil