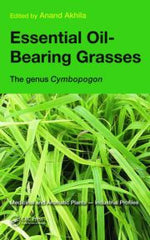 Essential Oil-Bearing Grasses: The genus Cymbopogon
SPECIAL INDIAN REPRINT !!
Essential Oil-Bearing Grasses: The genus Cymbopogon
Features
Covers harvesting and distillation practices that optimize yield of quality essential oil from Cymbopogon species
Includes an overview of developments in biotechnological research carried out during the last two decades
Highlights the unaddressed or unfinished challenges in the study of this important group of aromatic grasses
Reviews the common methods of testing antimicrobial and antioxidant activities as well as factors affecting their activities
Discusses a study on the effects of more than 100 types of essential oils on the blood coagulation-fibrinolysis systems, using lemongrass at the control
Explores the latest analytical methods developed for identification of individual components of Eos and their application to the analysis of Cymbopogon EOs
Summary
When enjoying a southeast asian soup or cup of herbal tea, we are really savoring the flavor of lemongrass. Similarly, the sweet aroma of mosquito-repelling lotions comes from the citronella oil present in them. Fine perfumes, candles, and herbal pillows with the pleasing smell of rose are often in fact scented with palmarosa. Providing an in-depth look at their history and production, Essential Oil Bearing Grasses: The genus Cymbopogon provides a comprehensive review of these economically important grasses.
A detailed examination of chemical constituents and market trends, the book explores the cosmetic, medicinal, and nutritional uses of the plant. It covers the botany, taxonomy, chemistry, and biogenesis of the oils, and their extraction and analytical methods, biotechnology, storage, legislation, and trade. Highlighting industrial uses for the grasses in this genus, the book also includes coverage of the physiological and ecophysiological considerations. It presents a comprehensive overview of most of the cultivated and wild species of cymbopogons.
Featuring contributions from a team of international experts, the book describes the considerable ethno-botanical, phytochemical, and pharmacological knowledge associated with the multidimensional uses of the oils. It provides a complete industrial profile that includes market size, geographical sources, export and import data, and industry uses. Its pages offer an invaluable resource for research, cultivation, marketing, or product development of Cymbopogon.
able of Contents
Botany, Including Anatomy, Physiology, Biochemistry, and Molecular Biology, C.M. Bertea and M.E. Maffei
Introduction
Anatomy
Biochemistry
Molecular Biology
Physiology and Ecophysiology
References

Chemistry and Biogenesis of Essential Oil from the Genus Cymbopogon, A. Akhila
Inroduction
Chemistry and Biogenesis of Essential Oil from Cymbopogons
Physicochemical Characteristics of the Essential Oils from Cymbopogons
Chemistry and Uses of Cymbopogon Essential Oils
References

The Cymbopogons: Harvest and Postharvest Management, A. K. Pandey
Introduction
Lemongrass
Palmarosa (Cymbopogon martinii var. motia (Roxb.) Wats.)
Citronella (Cymbopogon winterianus Jowitt)
Jamrosa (Cymbopogon nardus Rendle)
Conclusion
References

Biotechnological Studies in Cymbopogons: Current Status and Future Options, A.K. Mathur
Introduction
Cymbopogon: The Aromatic Genus
Biotechnological Studies in Cymbopogons
Future Options in Biotechnology of Cymbopogons
Conclusion
References

The Trade in Commercially Important Cymbopogon Oils, R. Tiwari
Introduction
Citronella Oil
Lemongrass Oil
Palmarosa Oil
References

In Vitro Antimicrobial and Antioxidant Activities of Some Cymbopogon Species, W. Khunkitti
Introduction
Factors Affecting Antimicrobial Activity of Essential Oils
In Vitro Antioxidant Activity of Some Cymbopogon Species and Their Major
Summary
References

Thrombolysis-Accelerating Activity of Essential Oils, H. Sumi and C. Yatagai
Introduction
Test I
Test II
Test III
Test IV
Summary
Acknowledgments
References

Analytical Methods for Cymbopogon Oils, A. Bighelli and J. Casanova
Introduction
Methods for EO Analysis: A Summary
Analysis of Cymbopogon Oils
Conclusion
Acknowledgments
References

Citral from Lemongrass and Other Natural Sources: Its Toxicology and Legislation, D.A. Moyler
Introduction
Uses and Dose Rate
Natural Sources
Manufacturing Methods
Analysis Methods
Toxicology
Classification and Labeling
Safety Data Sheets
Conclusion
Acknowledgments
References
Other Sources
Index