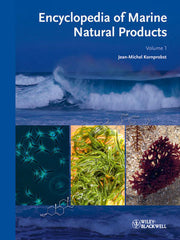 Encyclopedia of Marine Natural Products, 3 Volume Set
Encyclopedia of Marine Natural Products, 3 Volume Set
1680 pages
April 2010, Wiley-Blackwell
This exhaustive listing of almost all marine natural products known to date adopts a unique approach in its classification of the compounds by biological species. It also provides background information on the respective species, based on the biological classification of the organisms from which these compounds are derived. The treatise covers more than 8,700 formula, 14,000 references, and 650 websites on almost 1700 pages.

From the contents:
* General and Bibliographic Resources
* Archaea (Archaebacteria) and Eubacteria
* Photosynthetic Eucaryotes
* Fungi and other non-photosynthetic unicellular eucaryotes
* Diploblastic animals
* Protostomes
* Deuterostomes
Indispensable for marine biologists and chemists exploring natural products, as well as for the pharmaceutical and food industries and the agribusiness.