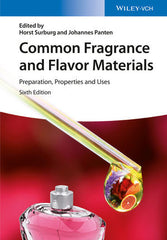 Common Fragrance and Flavor Materials: Preparation, Properties and Uses, 6th Edition By Horst Surburg, Johannes Panten


Common Fragrance and Flavor Materials: Preparation, Properties and Uses, 6th Edition
Description
This 6th edition is thoroughly revised and updated, and now additionally includes all commercially important flavor and fragrance materials that entered the market over the past 10 years.

In one handy and up-to-date source, this classic reference surveys those natural and synthetic materials that are commercially available, produced, and used on a relatively large scale, covering their properties, manufacturing methods employed, and areas of application.

For this new edition the chapter on essential oils has been completely revised with regard to production volumes, availability, and new product specifications, while new legal issues, such as REACH regulation aspects, are now included. Finally, the CAS registry numbers and physicochemical data of over 350 single substances and 100 essential oils have been updated and revised.