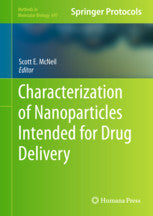 Characterization of Nanoparticles Intended for Drug Delivery By McNeil, Scott E. (Ed.)
Characterization of Nanoparticles Intended for Drug Delivery
Series: Methods in Molecular Biology, Vol. 697
2011, XII, 269p.
Hardcover
Provides the reader with protocols that have been tested against clinically relevant nanoparticles
Describes the nuances of nanoparticle types and necessary controls
Gives a broad overview of applications of nanotechnology to medicine
Outlines the beneficial aspects of nanotechnology-based drug delivery
In recent years, there have been many exciting breakthroughs in the application of nanotechnology to medicine. In Characterization of Nanoparticles Intended for Drug Delivery, expert researchers explore the latest advances in the field, providing a set of basic methods for the characterization of nanomaterials for medical use. Chapters provide methods to characterize the physiochemical properties (size, aggregation, and surface chemistry) and in vitro immunological and biological characteristics of nanomaterials. Composed in the highly successful Methods in Molecular Biology™ series format, each chapter contains a brief introduction, step-by-step methods, a list of necessary materials, and a Notes section which shares tips on troubleshooting and avoiding known pitfalls. Comprehensive and informative, Characterization of Nanoparticles Intended for Drug Delivery is an essential survey of methods that are crucial to the preclinical characterization of nanomedicines.
Content Level » Professional/practitioner
Keywords » Assays for sterility - Assays for toxicity - Atomic force microscopy - Nanomedicine - Physicochemical properties - Thin layer chromatography
Contents
Preface . v
Contributors ix

Part I Introduction and Discussion

1 Unique Benefits of Nanotechnology to Drug Delivery and Diagnostics . . . . . . . .     3
Scott E. McNeil

2 Challenges for Nanoparticle Characterization . . . . . . . . . . . . . . . . . . . . . . . . . . . .     9
Scott E. McNeil

3 Considerations When Submitting Nanotherapeutics to FDA/CDER
for Regulatory Review . . . . . . . . . . . . . . . . . . . . . . . . . . . . . . . . . . . . . . . . . . . . .     17
Katherine Tyner and Nakissa Sadrieh

Part II A ssays to Determine Physical and Chemical Properties

4 Measuring the Hydrodynamic Size of Nanoparticles in Aqueous
Media Using Batch-Mode Dynamic Light Scattering . . . . . . . . . . . . . . . . . . . . . .     35
Vincent A. Hackley and Jeffrey D. Clogston

5 Characterization of Nanoparticles by Matrix Assisted Laser Desorption
Ionization Time-of-Flight Mass Spectrometry . . . . . . . . . . . . . . . . . . . . . . . . . . .     53
Uma Ramalinga, Jeffrey D. Clogston, Anil K. Patri, and John T. Simpson

6 Zeta Potential Measurement . . . . . . . . . . . . . . . . . . . . . . . . . . . . . . . . . . . . . . . .     63
Jeffrey D. Clogston and Anil K. Patri

7 Size Measurement of Nanoparticles Using Atomic Force Microscopy . . . . . . . . . .     71
Jaroslaw Grobelny, Frank W. DelRio, Namboodiri Pradeep,
Doo-In Kim, Vincent A. Hackley, and Robert F. Cook

8 Biological Tissue and Cell Culture Specimen Preparation
for TEM Nanoparticle Characterization . . . . . . . . . . . . . . . . . . . . . . . . . . . . . . . .     83
Kunio Nagashima, Jiwen Zheng, David Parmiter, and Anil K. Patri

9 SEM X-Ray Microanalysis of Nanoparticles Present in Tissue
or Cultured Cell Thin Sections . . . . . . . . . . . . . . . . . . . . . . . . . . . . . . . . . . . . . .     93
Jiwen Zheng, Kunio Nagashima, David Parmiter,
Jason de la Cruz, and Anil K. Patri

10 Detecting and Measuring Free Gadolinium in Nanoparticles
for MRI Imaging . . . . . . . . . . . . . . . . . . . . . . . . . . . . . . . . . . . . . . . . . . . . . . . . .     101
Jeffrey D. Clogston and Anil K. Patri

11 Lipid Component Quantitation by Thin Layer Chromatography . . . . . . . . . . . . .     109
Jeffrey D. Clogston and Anil K. Patri

Part III A ssays for Sterility

12 Detection and Quantitative Evaluation of Endotoxin Contamination
in Nanoparticle Formulations by LAL-Based Assays . . . . . . . . . . . . . . . . . . . . . . .     121
Barry W. Neun and Marina A. Dobrovolskaia

13 Analysis of Microbial Contamination in Nanoparticle Formulations . . . . . . . . . . .     131
Timothy M. Potter and Marina A. Dobrovolskaia

Part IV A ssays for In Vitro Detection and Quantitation

14 Gold Nanoparticle Quantitation via Fluorescence in Solution and Cell Culture . .     137
Parag Aggarwal and Marina A. Dobrovolskaia

15 Quantitation of Nanoparticles in Serum Matrix by Capillary Electrophoresis . . . .     145
King C. Chan, Timothy D. Veenstra, and Haleem J. Issaq

Part V In Vitro Assays for Toxicity

16 Evaluation of Cytotoxicity of Nanoparticulate Materials in Porcine
Kidney Cells and Human Hepatocarcinoma Cells . . . . . . . . . . . . . . . . . . . . . . . . . 157
Timothy M. Potter and Stephan T. Stern

17 Monitoring Nanoparticle-Treated Hepatocarcinoma Cells for Apoptosis . . . . . . .     167
Timothy M. Potter and Stephan T. Stern

18 Detecting Reactive Oxygen Species in Primary Hepatocytes
Treated with Nanoparticles . . . . . . . . . . . . . . . . . . . . . . . . . . . . . . . . . . . . . . . . .     173
Banu Zolnik, Timothy M. Potter, and Stephan T. Stern

19 Assay to Detect Lipid Peroxidation upon Exposure to Nanoparticles . . . . . . . . . .     181
Timothy M. Potter, Barry W. Neun, and Stephan T. Stern

20 Monitoring Glutathione Homeostasis in Nanoparticle-Treated Hepatocytes . . . . .     191
Timothy M. Potter, Barry W. Neun, and Stephan T. Stern

21 Autophagy Monitoring Assay: Qualitative Analysis
of MAP LC3-I to II Conversion by Immunoblot . . . . . . . . . . . . . . . . . . . . . . . . .     199
Christopher B. McLeland, Jamie Rodriguez, and Stephan T. Stern

22 Monitoring Lysosomal Activity in Nanoparticle-Treated Cells . . . . . . . . . . . . . . .     207
Barry W. Neun and Stephan T. Stern

Part VI In Vitro Immunological Assays

23 Method for Analysis of Nanoparticle Hemolytic Properties In Vitro . . . . . . . . . . .     215
Barry W. Neun and Marina A. Dobrovolskaia

24 Method for In Vitro Analysis of Nanoparticle Thrombogenic Properties . . . . . . .     225
Barry W. Neun and Marina A. Dobrovolskaia

25 Qualitative Analysis of Total Complement Activation by Nanoparticles . . . . . . . . .     237
Barry W. Neun and Marina A. Dobrovolskaia

26 Method for Analysis of Nanoparticle Effects on Cellular Chemotaxis . . . . . . . . . .     247
Sarah L. Skoczen, Timothy M. Potter, and Marina A. Dobrovolskaia

27 In Vitro Analysis of Nanoparticle Uptake by Macrophages
Using Chemiluminescence . . . . . . . . . . . . . . . . . . . . . . . . . . . . . . . . . . . . . . . . . .     255
Sarah L. Skoczen, Timothy M. Potter, and Marina A. Dobrovolskaia
Index . 263