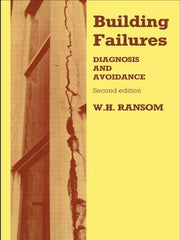 Building Failures Diagnosis and avoidance, 2nd Edition
Diagnosis and avoidance, 2nd Edition
By
 

W.H. Ransom

Routledge

192 pages
Description
In recent years building failures and the resulting lawsuits and awards for damages have frequently been in the news. The biggest headlines may have been reserved for structural failures and complete collapses, but we should not forget the less newsworthy failures such as leaky roofs, damp walls, dropped foundations and rotted timber. This book gives practical guidance on the prevention of failure by describing the nature and cause of the most common defects in buildings, and then shows how they should be avoided in design and construction.
Reviews
"…a useful contribution to any library and will play the part in reminding students, designers and builders alike of the major defects and how they can be avoided". - Buidling Technology and Management
"…well written, well presented, valuable information and guidance…wholeheartedly recommended…" - RIBA Journal
"…a bargain…design professionals…should have the book on their desk." - The Construction Specifier
Table of Contents
Introduction.
Agencies causing deterioration.
Durability of materials.
Moisture.
Foundations.
Floors, floor finishes and DPMs.
Walls and DPCs.
Cladding.
Doors and windows.
Roofs.
Services.
Failure patterns and control.
References.
Further reading.
Index.