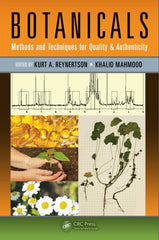 Botanicals: Methods and Techniques for Quality & Authenticity by Kurt Reynertson, Khalid Mahmood
January 13, 2015 by CRC Press
Reference - 332 Pages - 121 B/W Illustrations
Features
Supplies product manufacturers with new tools for the assessment of raw materials
Examines the implementation of measures to ensure quality, authenticity, and traceability
Discusses DNA fingerprinting methods and metabolomics
Reviews quality characteristics such as identity, authenticity, biodiversity, and certifications
Summary
The international trade in plants is growing steadily as the worldwide demand for natural and botanical raw materials increases. Customers value natural products and botanicals as "green" alternatives—safer ingredients for their families which also represent an environmentally and socially responsible choice for the planet. In order to build assurance into the sourcing of natural ingredients, R&D organizations must have valid scientific matrices to authenticate the quality of those ingredients, provide traceability, and minimize risk. An assemblage of insight from expert contributors, Botanicals: Methods and Techniques for Quality & Authenticity compiles a range of methods and techniques that can be used to help guide quality and authenticity determinations.
Topics include:
Metabolic profiling, authentication of botanicals by morphology, and genetic methods of botanical authentication
Tools for building models for the authentication of materials
How multivariate statistics can play a role in determining botanical quality and authenticity
Radiocarbon and stable isotope ratio analysis and emerging stable isotope tools
NMR (nuclear magnetic resonance) spectroscopy, NIR (near-infrared), and HPTLC (high-performance thin-layer chromatography) methods for analysis
The use of electronic sensing instruments and applications for analysis
The contributors also discuss the challenge of identifying a botanical extract or preparation on the basis of its chemical content and discuss quality issues faced by botanicals used as cosmetic ingredients. The book provides you with a range of traditional, taxonomic, and newer analytical tools to assure the quality, authenticity, and traceability of botanical raw materials for dietary supplements, cosmetics, and natural products research.
Table of Contents
The Importance of Quality and Authenticity for Botanical R&D;
Kurt A. Reynertson and Khalid Mahmood
The Importance of Proper Selection of Product Quality Specifications and Methods of Analysis for Botanical Product Evaluation;
Paula N. Brown, Michael Chan, and Joseph M. Betz
Cultivating Botanicals for Sensory Quality: From Good Agricultural Practices to Taste Discernment
by Smallholder
Tea Farmers;
Selena Ahmed, John Richard Stepp, and Xue Dayuan
Using Traditional Taxonomy and Vouchers in Authentication and Quality Control;
Wendy L. Applequist
The DNA Toolkit: A Practical User's Guide to Genetic Methods of Botanical Authentication;
Danica T. Harbaugh Reynaud
Metabolic Profiling and Proper Identification of Botanicals: A Case Study of Black Cohosh;
Tiffany Chan, Shi-Biao Wu, and Edward J. Kennelly
A Model for Nontargeted Detection of Adulterants;
James Harnly, Joe Jabolonski, and Jeff Moore
The Promise of Class Prediction: How Multivariate Statistics Can Help Determine Botanical Quality and Authenticity;
Stephan Baumann
Conformation of Botanical or Bio- Based Materials by Radiocarbon and Stable Isotope Ratio Analysis;
Randy Culp
Botanical Isoscapes: Emerging Stable Isotope Tools for Authentication and Geographic Sourcing;
Jason B. West
Nuclear Magnetic Resonance: A Revolutionary Tool for Nutraceutical Analysis;
Kimberly L. Colson, Jimmy Yuk, and Christian Fischer
Quality and Authenticity of Complex Natural Mixtures: Analysis of Honey Using NMR Spectroscopy and Statistics;
István Pelczer
Application of CRAFT to Data Reduction of NMR Spectra of Botanical Samples;
Krish Krishnamurthy and David J. Russell
Practical Use of FT-NIR for Identification and Qualification of Botanicals: A Fit-for-Purpose Approach;
Cynthia Kradjel
High-Performance Thin-Layer Chromatography for the Identification of Botanical Materials and the Detection of Adulteration;
Eike Reich, Débora A. Frommenwiler, and Valeria Maire-Widmer
Sensory and Chemical Fingerprinting Aids Quality and Authentication of Ingredients and Raw Materials of Vegetal Origin;
Marion Bonnefille
The Hidden Face of Botanical Identity: An Industrial Perspective on Challenges from Natural Variability and Commercial Processes on Botanical Authenticity;
Leila D. Falcão, Camille Durand, Alexis Lavaud, Marc Roller, and Antoine C. Bily
Aspects of Quality Issues Faced by Botanicals Used as Cosmetic Ingredients;
Jean-Marc Seigneuret
Index
About the Authors :
Kurt A. Reynertson has worked in natural products chemistry for over 15 years and published numerous research articles in international journals. He completed his PhD in phytochemistry at the City University of New York and worked as a postdoctoral researcher in cancer pharmacology at Weill Cornell Medical College before joining the Naturals Platform team at Johnson & Johnson Consumer Products, Inc. His work is primarily focused on early discovery R&D, which puts him on the front lines of botanical quality and authenticity issues.
Khalid Mahmood earned a PhD in organic synthesis chemistry from the University of Karachi in Pakistan. Since his arrival in the United States, he has accumulated significant exposure in the areas of brain receptor research at University of Pittsburgh and consumer products research working for small-sized companies in Illinois and California. For the past eight years, Dr. Mahmood has been the Naturals Platform leader at Johnson & Johnson Consumer Products, Inc. His combined experience from various sectors has helped him obtain inventorships on eight patents and multiple patent applications for natural technologies useful for personal care products.