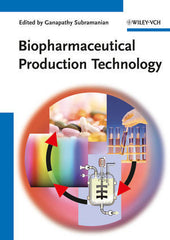 Biopharmaceutical Production Technology, 2 Volume Set Ganapathy Subramanian (Editor)
Biopharmaceutical Production Technology, 2 Volume Set
Cost-effective manufacturing of biopharmaceutical products is rapidly gaining in importance, while healthcare systems across the globe are looking to contain costs and improve efficiency. To adapt to these changes, industries need to review and streamline their manufacturing processes.

This two volume handbook systematically addresses the key steps and challenges in the production process and provides valuable information for medium to large scale producers of biopharmaceuticals.

It is divided into seven major parts:
- Upstream Technologies
- Protein Recovery
- Advances in Process Development
- Analytical Technologies
- Quality Control
- Process Design and Management
- Changing Face of Processing

With contributions by around 40 experts from academia as well as small and large biopharmaceutical companies, this unique handbook is full of first-hand knowledge on how to produce biopharmaceuticals in a cost-effective and quality-controlled manner.