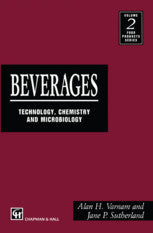 BEVERAGES: TECHNOLOGY, CHEMISTRY AND MICROBIOLOGY By Varnam, A., Sutherland, J.M
SPECIAL INDIAN REPRINT !
Beverages
Technology, Chemistry and Microbiology
by Alan H. Varnam
Beverages provides thorough and integrated coverage in a user-friendly way, and is the second of an important series dealing with major food product groups. It is an invaluable learning and teaching aid and is also of great use to the food industry and regulatory personnel.
Contents
Mineral water and other bottled waters

Fruit juices

Soft drinks

Tea

Coffee

Cocoa and chocolate-based beverages

Alcoholic beverages: I. Beer

Alcoholic beverages: II. Wine

Alcoholic beverages: III. Distilled spirits
Index