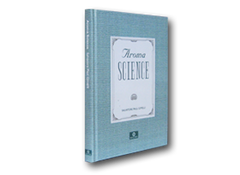 Aroma Science By Salvatore P. Gimelli
180 x 240 mm, 7" x 9.5"
Hardback, 250 pages
This book is an expanded version of the lecture notes and handouts compiled by the author and presented to students taking a course involving aroma chemistry as part of a Master's degree programme in cosmetics science at Fairleigh Dickinson University, New Jersey, United States. It is intended to teach the science involved in the study of aroma materials and their effect on society. Examples and problems are provided and explained, and practice problems with answers are available for study and review.
The book is divided into four main sections. The first section deals with odour sensations, the correlation of odours and molecular structures and the properties, sources and uses of natural aroma materials. Part 2 covers synthetic aroma products - the sources, properties, uses and syntheses of such aroma compounds as aromatics, heterocyclics, aliphatics, alicyclics and terpenes. Part 3 deals with aroma analytical methods and describes the procedures used for the evaluation and identification of aroma compounds. The final section concerns aroma applications and describes the creation of perfumes, the application of fragrances in cosmetic formulations, and the aging and stability of aroma compounds and their use as therapeutic agents.