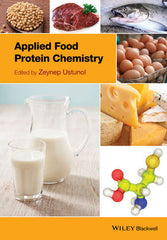 Applied Food Protein Chemistry By Zeynep Ustunol (Editor)
Applied Food Protein Chemistry
536 pages, Hardcover
 2014
Food proteins are of great interest, not only because of their nutritional importance and their functionality in foods, but also for their detrimental effects. Although proteins from milk, meats (including fish and poultry), eggs, cereals, legumes, and oilseeds have been the traditional sources of protein in the human diet, potentially any proteins from a biological source could serve as a food protein. The primary role of protein in the diet is to provide the building materials for the synthesis of muscle and other tissues, and they play a critical role in many biological processes. They are also responsible for food texture, color, and flavor. Today, food proteins are extracted, modified, and incorporated into processed foods to impart specific functional properties. They can also have adverse effects in the diet: proteins, such as walnuts, pecans, almonds, and cashews, soybean, wheat, milk, egg, crustacean, and fish proteins can be powerful allergens for some people.
Applied Food Protein Chemistry is an applied reference which reviews the properties of food proteins and provides in-depth information on important plant and animal proteins consumed around the world.
The book is grouped into three sections:
(1) overview of food proteins,
(2) plant proteins, and
(3) animal proteins.
Each chapter discusses world production, distribution, utilization, physicochemical properties, and the functional properties of each protein, as well as its food applications. The authors for each of the chapters are carefully selected experts in the field. This book will be a valuable reference tool for those who work on food proteins. It will also be an important text on applied food protein chemistry for upper-level students and graduate students of food science programs.
Dr Zeynep Ustunol is Professor of Food Science and Human Nutrition and Director of Graduate Programs at Michigan State University, East Lansing, Michigan, USA