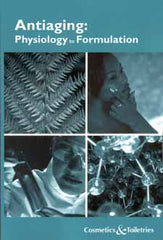 Antiaging Physiology to Formulation; Cosmetics & Toiletries Formulators' Resource
This Book offers the cosmetic chemist a compendium of information on antiaging products products in this handbook.
From physiology to finished product, this book is crucial to formulators working in, or interested in growing as rapidly as this sector.
Antiaging: Physiology to Formulation includes:
ingredients

intervention

testing

claim substantiation

physiology

and more!
Topics covered include: naturals, new methodologies, skin lighteners, novel ingredients and age-effect inhibitors, and more.
For those who are interested in formulating either mass-market products or prestige lines, this book is beneficial.
Contents
Chapter 1: Physiology
Wrinkles from UVA Exposure

Participation of Metalloproteinases in Photoaging

Pigmentation, Swelling and Wrinkling in the Eye Area

Cell Adhesion: A New Approach to Tissue Protection

Measured Dermal Effect of Applying Retin-A
Chapter 2: Intervention and Ingredients
Botanicals
Oat Fractions

New Active Ingredient for Aging Prevention

Galactomannan and Xyloglucan: Bio-Active Polysaccharides

Take Tea and See

Sweet WhiteLupine Extract as a Skin Restructuring Agent

Centella asiatica and Skin Care

Tinged Autumnal Leaves of Maple and Cherry Trees as Potent Antioxidant Sources

b-(1,6)-Branched b-(1,3)-Glucan in Skin Care

Artemia Extract: Toward More Extensive Sun Protection

Topically Applied Soy Isoflavones Increase Skin Thickness

Whitening Complex with Waltheria indica Extract and Ferulic Acid

A Botanical Anti-Sagging/Firming Blend

Anti-Wrinkle Activity of Hydrolyzed Ginseng Saponins

Phytoestrogens: Applications of Soy Isoflavones in Skin Care

Multifunctional Ingredients: The Novel Face of Natural

Innovative Natural Active Ingredient with Anti-Inflammatory Properties

Low Molecular Weight Tannins of Phyllanthus emblica: Antiaging Effects

A New Active from Germinated Seeds Boosts HSP Expression in Skin�s Natural Defenses
Hyaluronans
Hyaluronan: History and Biochemistry

Hyaluronan: Biology, Pathology and Pharmacology

Hyaluronan: Metabolism and Modulation of Hyaluronan Levels in Skin
Lighteners and Whiteners
Skin-Whitening Agents
Metalloproteinase Inhibitors
The Inhibition of Metalloproteinase by Macrocystis pyrifera Extract

Controlling MMPs During Skin Whitening
Vitamins
Ascorbic Acid and Its Derivatives in Cosmetic Formulations

The Synergistic Antioxidative Effect of Ascorbyl 2-Phosphate and a-Tocopheryl Acetate

Skin Antioxidants
Water (seaweed, etc.)
Efficacy Testing of a Brown Seaweed Extract

Active Substances From The Sea

Phytoplankton: The New Frontier for Stress-Relieving Cosmetic Ingredients,
Permeability
Penetration of Vitamin A Palmitate into the Skin

Defending Against Photoaging: A New Perspective for Retinol

Moisturizing Potential of d-a-tocopherol

Polyethoxylated Retinamide as an Anti-Wrinkle Agent
Other
A Collagen III Amplifier System

Effects of Gelatin-Glycine on Oxidative Stress

Potassium Azeloyl Digycinate: A Multifunctional Skin Lightener

Dietary/Nutritional Supplements: The New Ally to Topical Cosmetic Formulations?

New Laminin Peptide for Innovative Skin Care Cosmetics

Copperceuticals and the Skin

Targeting the Cutaneous Nervous Network

Reflecting on Soft Focus

Building a Better Barrier for the Inside Out

Applications of Essential Fatty Acid in Skin Care, Cosmetics and Cosmeceuticals
Chapter 3: Claim Substantiation and Testing
Scratching the Skin Surface

Photoaging and Photodocumentation
Chapter 4: Formulation Considerations
Influence of a Formulation�s pH on Cutaneous Absorption of Ascorbic Acid

O/w Emulsions Enriched with Vitamin E

A Triply Stabilized System to Improve Retinol Stability

Delivering Antiaging Actives
Index