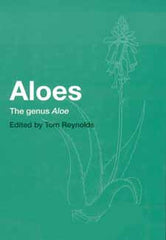 Aloes: The Genus Aloe edited by Tom Reynolds
Special Indian reprint !
Aloes:
The Genus Aloe
edited by Tom Reynolds
Features:
Presents aloe science from the chemical, biochemical, botanical, taxonomic, and horticultual point of view

Describes the medicinal applications and commercial uses of the species

Includes an 8-page full-color insert to enhance the book's value a detailed reference
Aloes: The Genus Aloe reviews all botanical, chemical, biochemical, and medical information as well as commercial aspects of aloes.
The first part of the book features information on the habitat and taxonomy of aloes, followed by a section on aloe constituents. Part 3 focuses on therapeutic activity and includes chapters on aloe's role in wound healing, skin cancer, and the immune system. The final section is devoted to aloe biology. Chapters are written by accomplished contributors who share their expertise and insight from all areas of academia and industry.
Aloes: The Genus Aloe, providing a solid foundation for future research, guides researchers and professionals in the areas of botany, natural product chemistry, pharmacology, dermatology, and immunology. The present volume brings together a wealth of information on aloes from a variety of sources, including seldom-recorded folk customs.
Contents
The Plants

Aloes in Habitat

Taxonomy of Aloaceae

Aloe Constituents

Aloe Chemistry

Aloe Polysaccharides

Aloe Lectins and Their Activities

Analytical Methodology: The Gel

Analysis of Aloe Pulp and its Derivatives

Analytical Methodology: The Exudate

Industrial Processing and Quality Control

Therapeutic Activity of Aloes

Healing Powers of Aloes

Aloe Vera in Wound Healing

Aloe Vera in Thermal and Frostbite Injuries

Plant Saccharides and the Prevention of Sun-induced Skin Cancer

Aloes and the Immune System

Bioactivity of A. arborescens Preparations

Aloe Biology

The Chromosones of Aloe - Variation on a Theme

Aloe Leaf Anatomy

Pests of Aloes