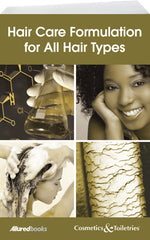 Hair Care Formulation for All Hair Types by Editor: Perry Romanowski
Hair Care Formulation for All Hair Types

 

Summary:

Softcover
Format Details
Softcover
352 Pages
Published 2011
Hair Care Formulation for All Hair Types is a practical handbook for hair product formulators with a focus on ethnic and multicultural hair types. Pulling from Cosmetics & Toiletries magazine's most in-depth and timely articles of the last five years, and written by world-renowned experts, Hair Care Formulation for All Hair Types features 30 papers investigating topics areas including Biology, Ingredients, Products and Testing. Focusing specifically on ethnic hair, this book begins with the biology and key physiological aspects important for formulators , provides author reviews, a variety of articles, and discussions on testing hair products; covering everything you need to know.
Topics Include:
Hair growth and loss
Scalp disorders
Polymers and other ingredients
Application of new technologies
Type-specific formulations
Product Claims
TABLE OF CONTENTS :
Introduction
PART I: Biology

Chapter 1. Approaches to and Characterization of Hair Growth
Chapter 2. A New Hypothesis for the Cause and Treatment of Pseudofolliculitis barbae
Chapter 3. Hair Loss Mechanisms and Treatment Materials: A Review
Chapter 4. Transfollicular Delivery: The (W)hole Story
Chapter 5. Ethnic Hair and Scalp Disorders

PART II: Ingredients

Chapter 6. Effect of Branching on Surfactant Properties of Sulfosuccinates
Chapter 7. New Hybrid Polymer for Hair Spray Formulations
Chapter 8. Polyquaternium-74: An Advanced Hair Conditioning Polymer
Chapter 9. Hair and Amino Acids
Chapter 10. Testing Polysilicone-19 for Hair Conditioning and UV Protection Claims
Chapter 11. Improving Hair Color Retention Using Quat Functional Olefin-graft Polymers
Chapter 12. Polyelectrolyte Complex for Mending Damaged Hair
Chapter 13. A Diester to Protect Hair from Color Fade and Sun Damage
Chapter 14. Diethanolamine Esterquats for Hair and Skin and Other Topics: Literature Findings
Chapter 15. A Micro-wax Dispersion to Condition Hair and Reduce Breakage
Chapter 16. Nutritional Supplements to Treat Skin and Hair Aging: A Review of Current Information
Chapter 17. Assessing the Targeting Conditioning Performance of Cationic Polymers
Chapter 18. Patent Picks—Ethnic Hair and Skin Research, Product Development
Chapter 19. Quaternium-91: A New Multifunctional Hair Conditioning Ingredient

PART III: Products

Chapter 20. A Controllable Progressive Hair Dye Process
Chapter 21. Forever Young: Anti-aging Hair Care
Chapter 22. CLA Glutathione and Sodium DNA for Reducing Hair Loss
Chapter 23. Applicability of t-Flavanone to Treat Female Pattern Baldness
Chapter 24. A 'Green' Microemulsion for Improved Conditioning Performance of Shampoos
Chapter 25. A New Focus for African Hair
Chapter 26. Innovations in Hair Styling Technology
Chapter 27. Hair Care Formulary

PART IV: Testing

Chapter 28. Certifying Hair Product Claims
Chapter 29. Texture Analysis to Select Packaging and Formulate Hair Care Products

Index
Edited by Perry Romanowski. Perry has worked in the beauty industry for more than 15 years. He is currently Program Director of the Complete Cosmetic Chemist Training Program and vice president of Brains Publishing and is a active member of the Society of Cosmetic Chemists. He holds a BS in chemistry and an MS in biochemistry from DePaul University and is author of Beginning Cosmetic Chemistry.